Welcome to Treasure Kave Embroidery
I believe in designing beautiful, quality and fun designs that will be treasured for years to come. I love helping others enjoy the mindful craft of embroidery, so all of my kits are designed to remove all complications so you can just get started with the fun stuff.
So if you're wanting to learn embroidery or looking for a really thoughtful gift, you are in the right place.
Within my range of embroidery kits, l have designs suitable for beginners -intermediate stitchers.  They're made with great quality materials and sustainably made and packaged.
I also have a range of kits suitable for children as young as 6+ or 9+ as l'm passionate about the mental health benefits hand stitching can have whilst growing up.
I also run many workshops, craft parties and wellness day events across SW London, London and Surrey. Please do get in touch if you would like to discuss an event you're thinking of hosting on kat@treasurekave.com …l'd love to help.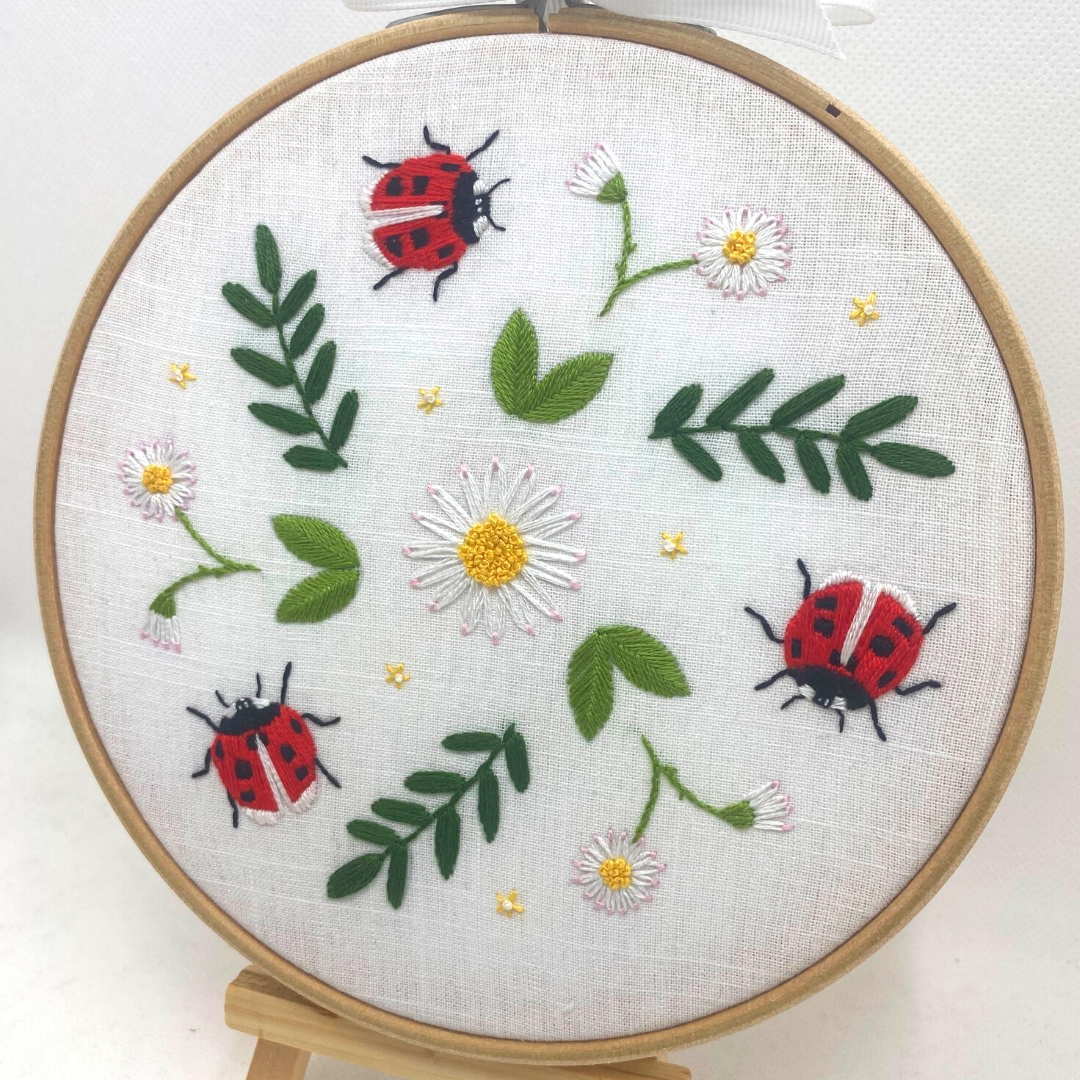 Now available to order!
Over the summer l've been working on lots of new kits including this Ladybird and Daisy kit, packed with lots of beginner stitches. This embroidery kit has some great beginners stitches and will give you the perfect excuse to take some time out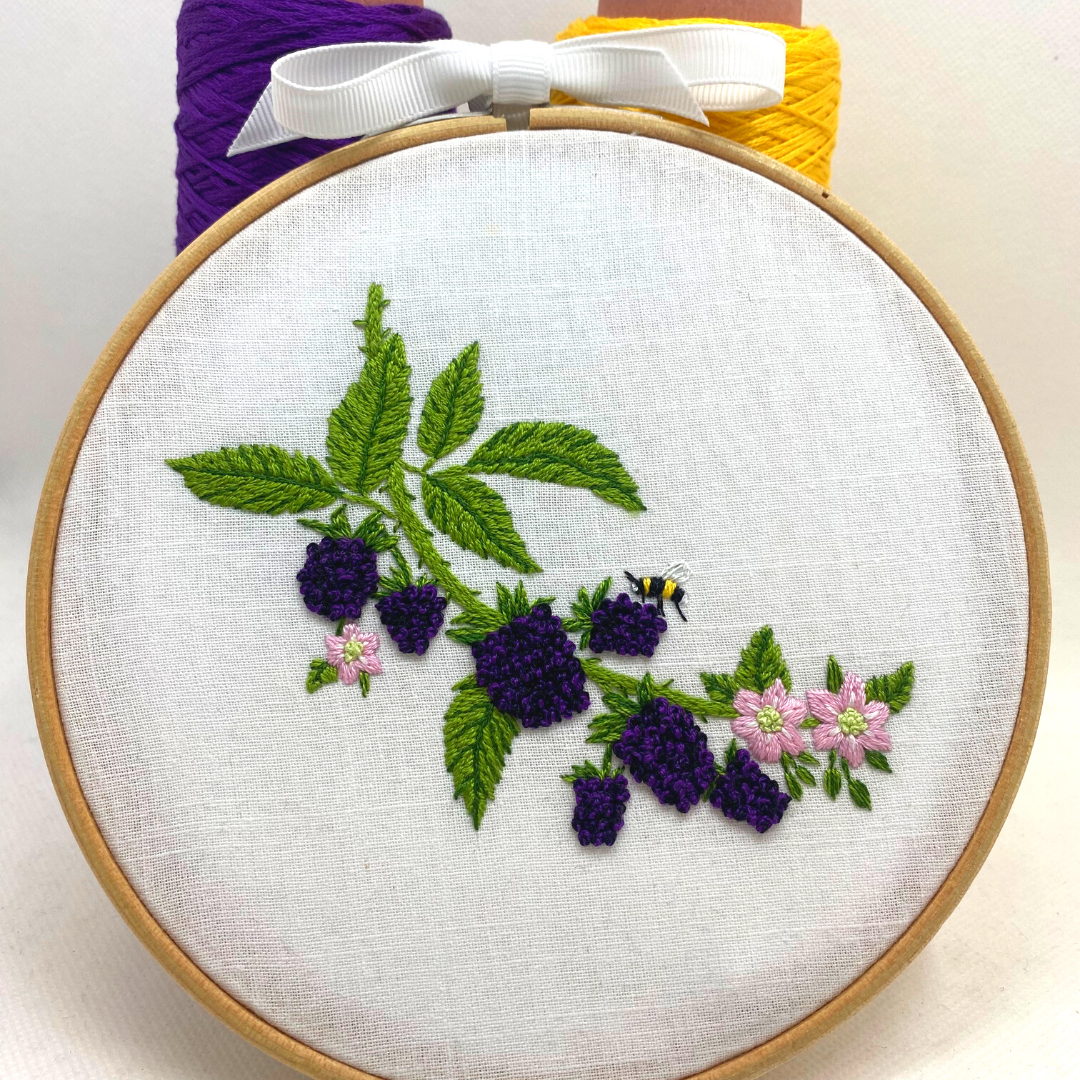 This summer with all the wet weather the blackberries seem to be everywhere near where l live. So l couldn't resist stitching up a few too. This new beginners kit includes some of my favourite stitches. For more details click the photo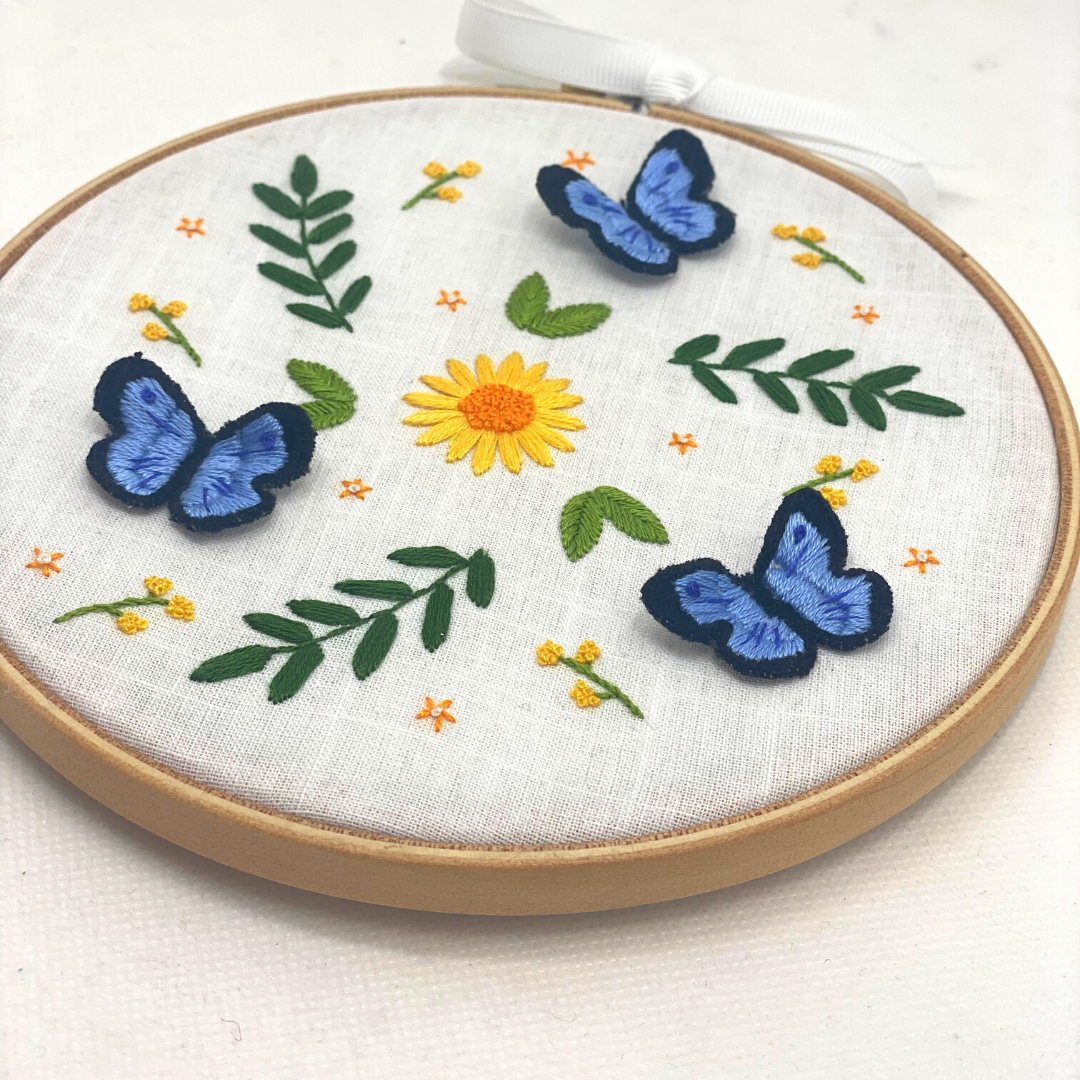 My new 3D Stumpwork butterfly kit is now ready to take off! This kit is perfect if you're feeling pretty confident with lots of beginner embroidery and ready to try something new. I've designed this kit so you get lots of 3D practice with 3 butterflies and filmed step by step instructions to help you along the way. Click the link on the photo to find out more
Knitting & Stitching Show - October 2023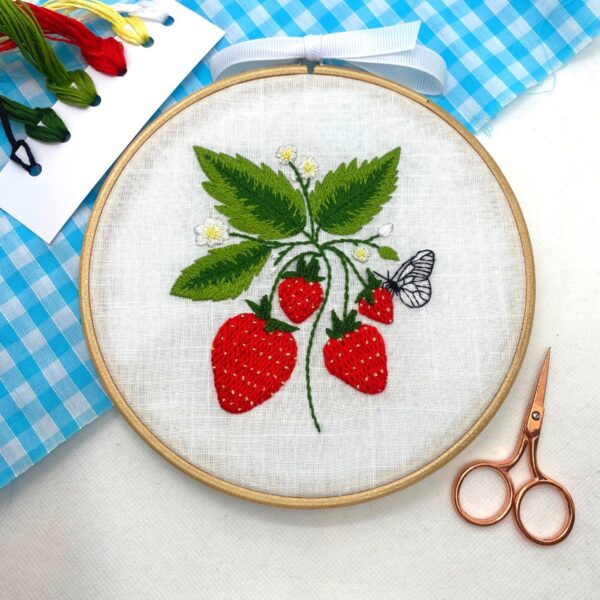 I'm delighted to be exhibiting at the Knitting and Stitching Show 2023 in Alexandra Palace, London, on the 5th to 8th October.

For the first time ever, l'll be taking Treasure Kave to the Knitting and Stitching show. Excited doesn't fully cover the emotions right now!
So for the past few months l've been designing and perfecting MANY new designs that will launch at the event.
A few of them can now be found in my shop and the remainder....well you'll have to come and see me on the day or follow me on social media for some sneak peeks!
NEW FOR KNITTING & STITCHING SHOW:
Katherine is delighted to be bringing her best selling embroidery kits and launching various new kits at the show. If you've ever wanted to try some raised embroidery, then her 3D stump work butterfly kit will be a must have purchase. Also look out for her new Christmas 2023 range, it's crackers! Embroidery kits range from £21 – £32
EMBROIDERY ACCESSORIES: 
Do you love embroidery but already have many threads and hoops? 
For those with many embroidery supplies already, Katherine will be bringing her much requested fabric square panels to buy separately from her kits. Lovely cotton/linen fabric with a pre-printed design, ready to pop in a hoop and get stitching. Pre-printed fabric squares from £8.50
STITCHING ON CLOTHES:

Did you know up to 100 billion garments are produced by the fashion industry every year and as much as 92 million tons of clothing ends up in landfills.

As a passionate up-cycler, It's highly likely Katherine will be wearing something she's stitched whilst at the show.

She will also be bringing her collection of 'Stick and Stitch' patches which are the perfect way to get stitching on clothes, alongside her favourite up-cycling tools. This is feel good stitching at it's best, good for you, your wardrobe and the environment.

Stick and Stitch patches from £8.50
TICKETS:
If you'd like to book tickets for the show, l have a little discount code you may like to use: 
Discount code is: TREASUREK23
This discount code is redeemable for £2 off standard and concession one-day admission tickets. Not valid on Saturday tickets
If you're visiting the Knitting and Stitching Show, you can find Treasure Kave embroidery on stand TGD21 near the stitch lane in the West Hall.
Hope to see you there, Katherine x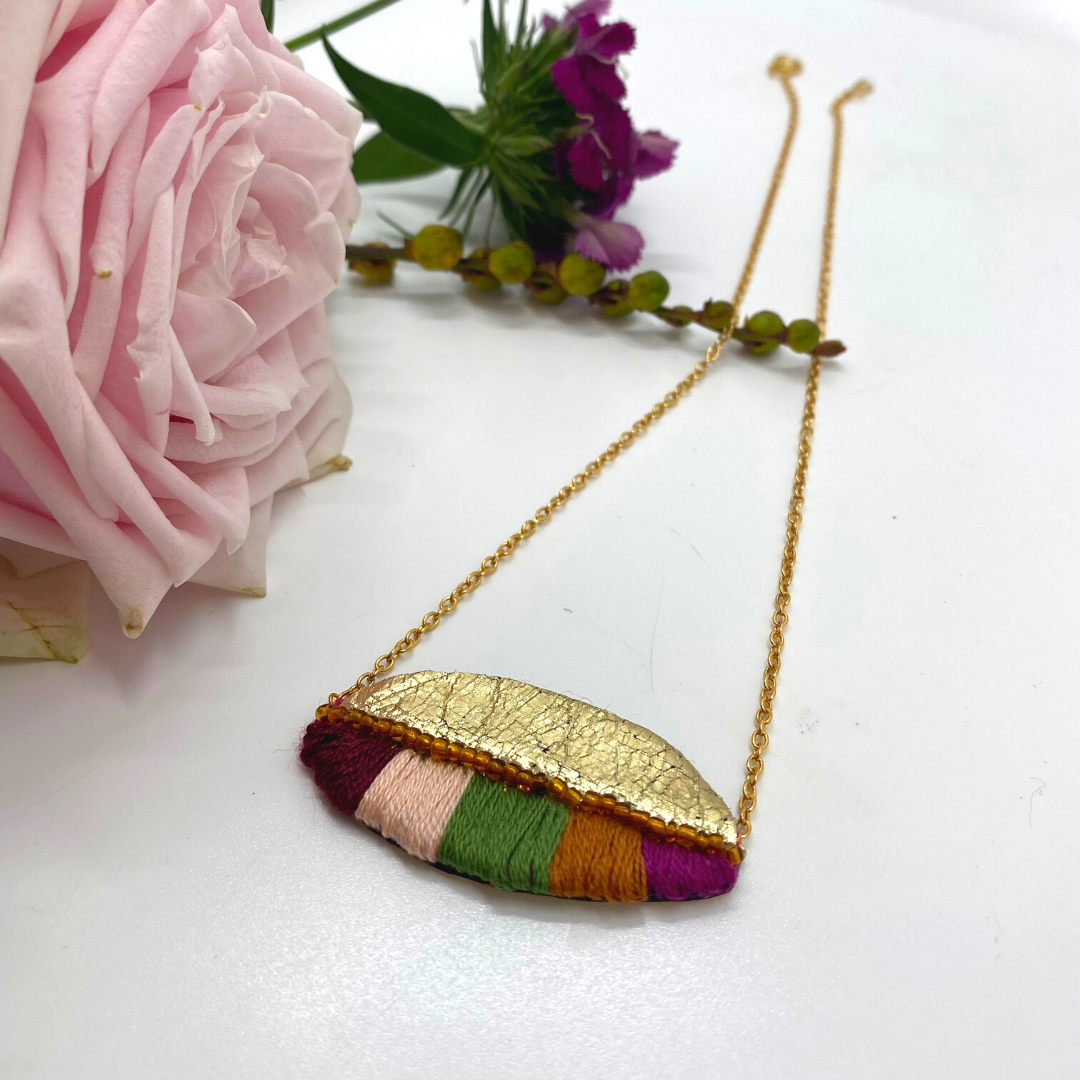 We all know accessories can completely update an outfit. This statement necklace is completely hand embroidered and the perfect unique gifts for a loved one this Valentine's day. With a variety of earthy tones, it looks fantastic with a range of colours and really stand out from the crowd. It comes on an 18" gold plated chain. Other colour ways are also possible as each one is hand crafted to order. So please do get i touch if you would like something extra special to match your special persons favourite colours.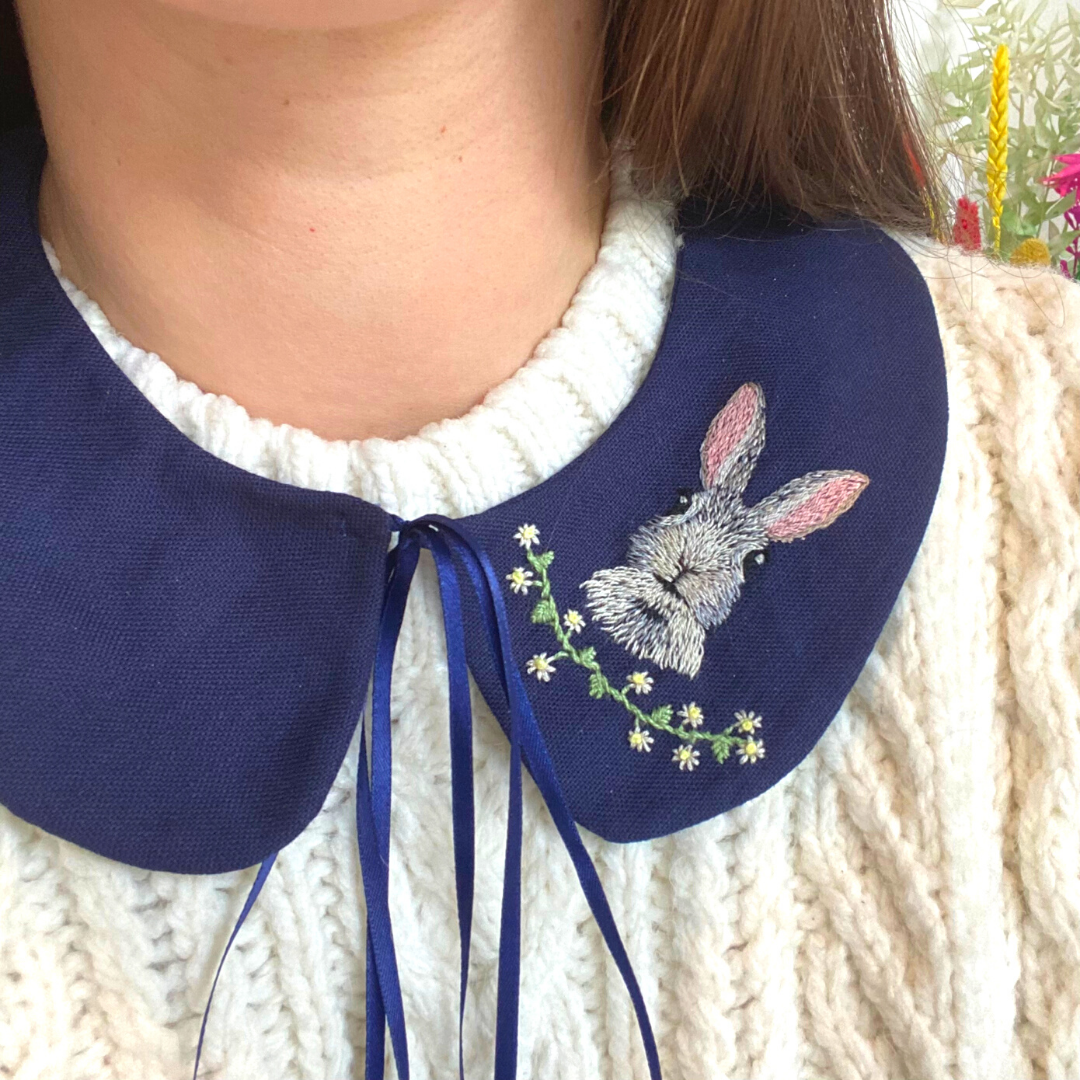 I've been seeing what else l can add embroidery to recently and l'm a big fan of adding it to my clothes. So l had great fun creating this detachable peter pan collar.
After so many compliments l've added it to my shop so you can have your own.

I'm making them with this little rabbit design and have a custom option with a design of your choice.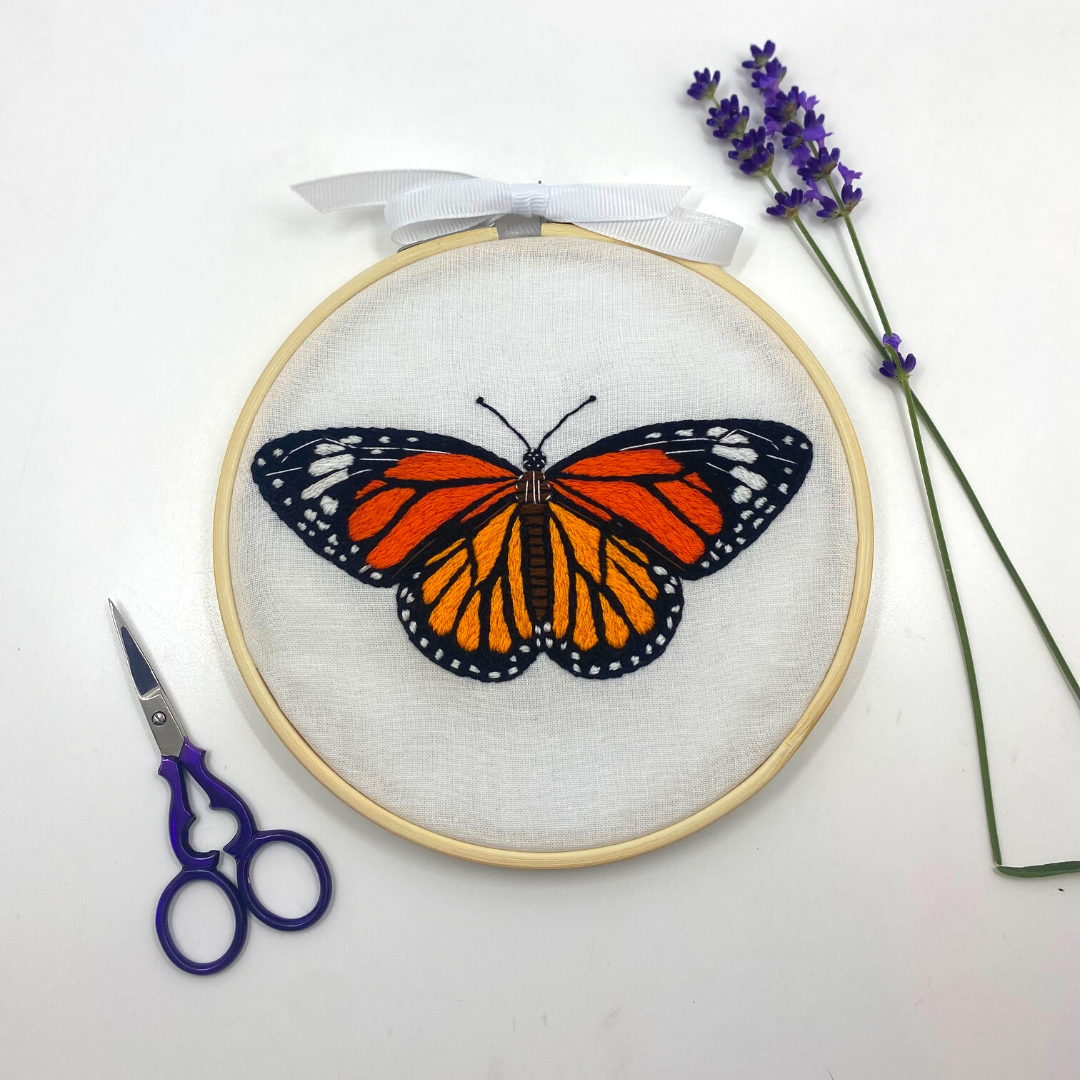 Ask any woman what they want as a gift and l reckon a day off with plenty of relaxation will appear at the top of her list! There's nothing more thoughtful than the gift of craft where she can sit down relax and do something totally indulgent just for her. Crafting like embroidery has the power to boost your mood and confidence and also ignites your creativity. After a few hours she'll feel like a new woman (l know this from experience!) This embroidery kit is perfect for beginners and comes with video instructions to help you through all the stitches.
Etsy Review - October 2021
This dimensional embroidery piece is BREATHTAKING and expertly crafted. I AM SO VERY EXCITED TO OWN SOMETHING SO LOVELY!!!!!!!! Prompt service; extremely well packed; HIGHLY RECOMMEND; A+++++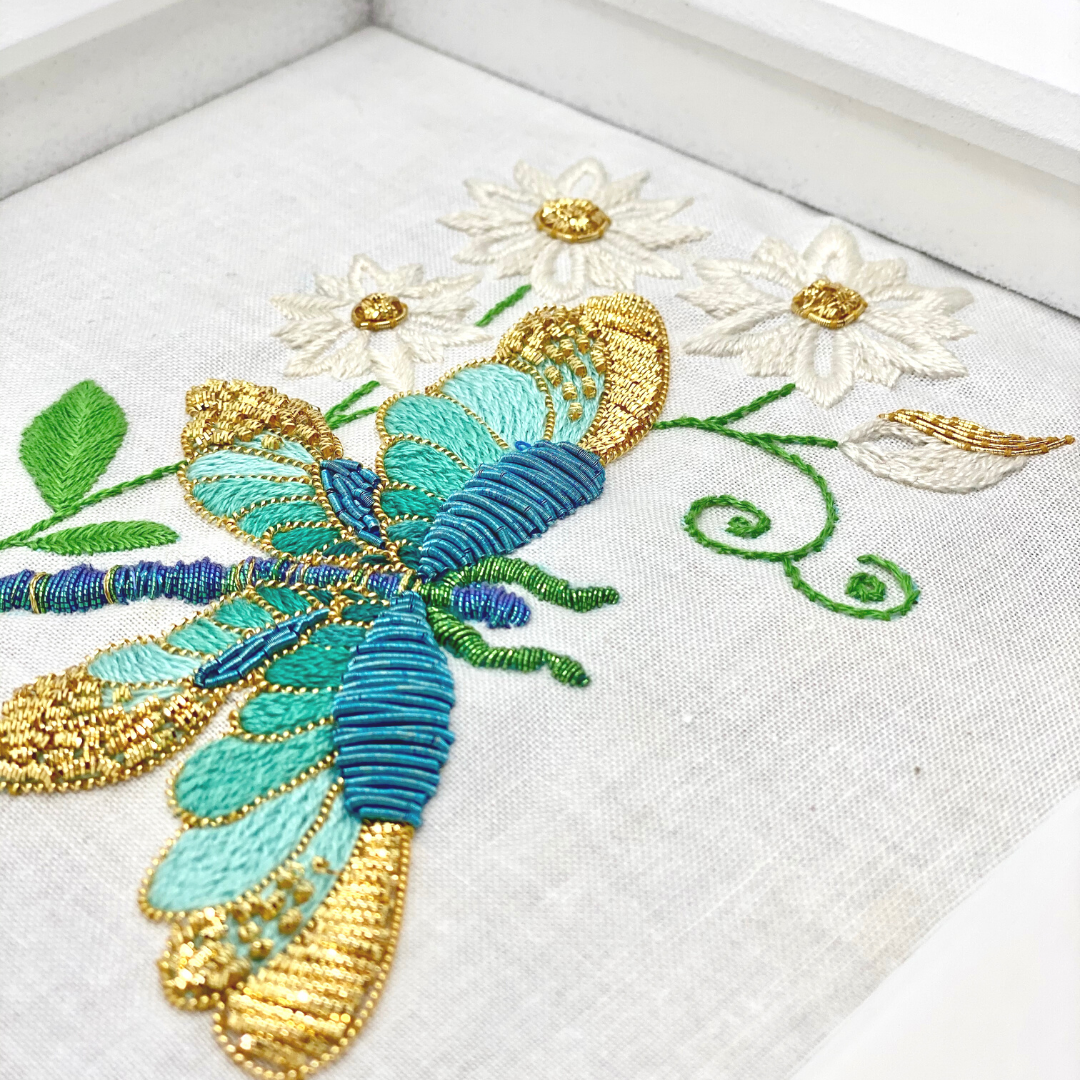 Treasure Kave
Average rating:
1 reviews
Jan 14, 2022
Great products and great service!
Love the rose gold Christmas tree stars I bought as a gift for my Mum and they can be used all year round as napkins rings so no hiding away in a box until next year!