If you're looking for a way to express yourself creatively and be kinder to the environment at the same time, then consider exploring embroidery as an up-cycling option! Embroidering clothes is not only a fun craft activity that produces exquisite results; it also imparts personality and sustainability into our wardrobe in such a beautiful way. With so many magical stitches to choose from – it can often be difficult to select just one! So let's explore some of the best embroidery stitches that you can use on your next clothing piece, and see how they can add unique flair and texture with ease!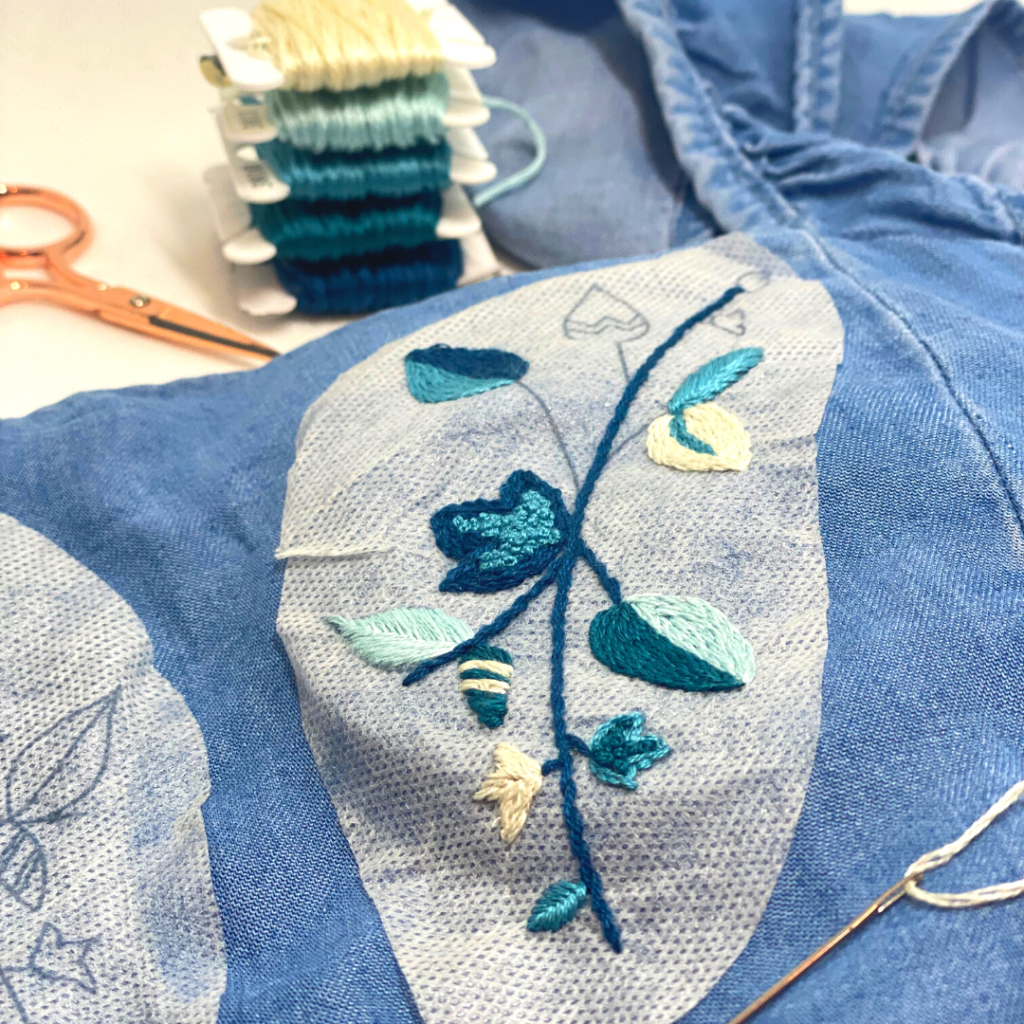 There are many things to consider when stitching on clothing. Weight and type of fabric, materials needed and the types of stitches to use to name a few.
If you've ever attended one of my workshops, you'll know a big bug bear of mine is making something pretty just for a photo on Instagram! I just can't understand why you would spend time on something that will only look good for a few washes/wears.
So any stitches l recommend have been tested in the wash and also on past up-cycling projects of my own. 
For wovens, these are the best stitches from my experience:
Back stitch – A nice simple stitch – Looks best when 3-4mm in length 
Stem stitch – Creates a beautiful texture for vines and lines. Something that can't be re-created with a machine. Also best 3-4mm in length
Split stitch – Great for large areas and very sturdy – Good for lines and also patches
French knots – Using just 1 wrap around your needle is best. The larger the knot the more likely it is to pill and get caught over time
Fishbone stitches – Fishbone stitches as long as they are small and not in a high touch point area can look beautiful. Keep them small and tight for longer lasting beauty.
Chain, Hungarian braided chain stitch and couching – All look good as long as they are small and tight. I would still opt for the options above before these, but for texture these are stunning
Will you try any of these on your next projects? Please let me know how you get on.
Now that you know some of the best embroidery stitches for clothes, why not try one of my upcycling embroidery kits? Each kit comes with step-by-step instructions and all the materials you need to turn an old piece of clothing into something new and unique. With a little time and effort, you can create something beautiful that's also environmentally friendly. I'm launching a new kit on 24th February – perfect for brightening up your spring/summer wardrobe. 
So what are you waiting for? Give it a try!
Happy stitching,
Kat x
Treasure Kave
Average rating:
0 reviews