Last summer l launched a series of free embroidery videos to help others learn embroidery stitches. I published them all on Instagram, Pinterest and You Tube to understand what people wanted from each platform.
And l was blown away with the response, especially on Pinterest and Instagram. So l've picked 35 stitches which start with easy beginners stitches and work up to more advanced stitches. I've picked the ones l use most regularly and what l see as most useful.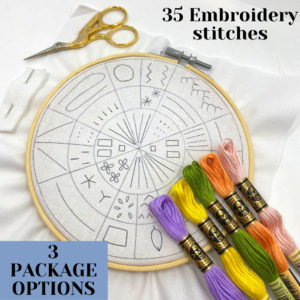 I will start filming on the 22nd of February so your first stitch will be emailed out for those on the Silver and gold package on the 24th. Instagram and Pinterest upload also on the 24th.
So grab your download now and come and join me for a lot of stitchy fun💕
The free downloadable pattern is now available on my website and the link can be found below.
There are 3 options depending on your budget and the level of detail you want when learning. Here's a brief overview of what's included in each
The Basic package: The free downloadable pattern, Access to overview videos on Instagram and Pinterest, recommended kit and supplier list
The Silver package: Everything in the basic package + weekly emailed exclusive You Tube videos with detailed voice over instructions on each stitch and tips.
The Gold package: Everything in the Silver and basic package + a Physical kit including printed pattern, 5 x 8m embroidery flosses, 6″embroidery hoop, 2 x size 3 embroidery needles and the option to buy scissors.
Treasure Kave
Average rating:
0 reviews